Pittsfield Historical Society's
William Dobson

From The Biographical Review published in Boston, MA by the Biographical Review Publishing Company in 1898. This article is contained in Volume XXIX.
---
WILLIAM DOBSON, senior member of the firm of Robert Dobson & Co., of Pittsfield, Me., manufacturers of woollen goods, and one of the best known and most highly respected citizens of Somerset County, was born in Galashiels, Scotland, on November 19, 1846, son of Robert and Janette (Wayness) Dobson. His parents were both natives of Galashiels, Scotland.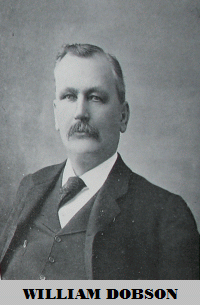 Robert Dobson came to America in 1856, a year before his family, having been previously employed as general manager for P. & R. Sanderson, of Galashiels, who operated one of the largest tweed mills in North Britain. Upon his arrival in America he was first employed in the Hodges Mill at Cherry Valley, four miles from Worcester, Mass., now owned by Olney Brothers, Richard Olney, late Secretary of State, being a member of the firm. Thence he went to Amesbury, Mass., where he was employed by the Salisbury Mills Corporation for three or four years. At the end of that time he was called to Peconic, Conn., a few miles from Bridgeport, to reorganize the company there engaged in manufacturing yarns and to start a new mill. Owing, however, to disagreement among the stockholders, these plans were not fully carried out; and at the end of a year Mr. Dobson went to Schaghticoke, N.Y., where he took charge of the mills then called the model mills of America. He subsequently acted as superintendent of the shawl-mills at Leeds, N.Y., owned by Hunt, Tilling-hast & Co. In 1868 he came to Pittsfield, being attracted by what he believed to be a good location for a woolen-mill. After the matter had been thoroughly discussed with the citizens of the town, who were unanimously in favor of aiding in the building of a woolen-mill, it was voted that the town should contribute fifteen thousand dollars toward the enterprise and should exempt the plant from taxation for a period of ten years. The mill was accordingly built and the machinery set up; and upon its completion it was purchased by Robert Dobson, William Davis, of Lawrence, Mass., and William Dobson, a small sum of money being paid down and a mortgage being given to cover the rest of the amount. This was in 1869. The new firm was known as Dobson, Davis & Co. Mr. Davis remained as a member of the firm for about four years, and then sold out his interest to Gordon Dobson and Dennison Walker, the brother and brother-in-law of the subject of this sketch,the firm name being changed to that of Robert Dobson & Co.
With characteristic energy and with an intelligent conception of means and ends born wide experience, Mr. Dobson set to work to build up a successful and vigorous business, to this end devoting his whole time, scarcely allowing himself proper hours for rest. It was his custom to rise very early in the morning, often at three o'clock, to look alter the books and attend to the correspondence of the firm before the workmen began to arrive at the mill. When, finally, the big wheels began to revolve and all parts of the machinery were set in operation, he was on hand to oversee everything. Understanding thoroughly every detail of the business, he could determine at once whether or not work was being properly done, and could quickly detect any irregularity in the running of the machinery. The goods manufactured were therefore of superior grade, and up to the present time have borne that reputation in the market. From time to time the mill has been enlarged and new machinery added; and to-day it is a twelve-set mill, equipped throughout with the most improved modern machinery and employing about two hundred and fifty workmen. The manufactured product is sold mostly in Boston, New York, St. Louis, and other large cities. Only one serious loss has been met with.That was in 1872, when a large lot of goods that had been manufactured for the Southern trade and were stored in a warehouse in Boston were destroyed by the great fire in that city. This loss was estimated at twenty thousand dollars. The iwo small fires that have since occurred did but little damage. The handsome and roomy office building at present occupied by the firm was completed in December, 1982, and is in every respect suitable and convenient for its purpose as well as elegant in its design and finish.
Robert Dobson and his wife had six children, two sons and four daughters. Only their sons, William and Gordon, are now living. Mrs. Dobson resides with the last named of these, who is unmarried. Her daughter Phoebe died at Lawrence, Mass.; Lizzie died shortly after the family moved to Pittsfield. Jennie married Dennison Walker; and Mary became the wife of Orlando Briggs. Mr. Walker, who became a member of the firm of Robert Dobson & Co. after the retirement of Mr. Davis, remained in it for about twelve years. At the end of that time he sold his interest to the other partners and built a four-set mill, known as the Maple Grove Woolen Mill, which he now owns and operates. Mr. and Mrs. Briggs had one child, Frank Briggs. He now lives with his grandmother, his father and mother having both passed away. Mr. Dobson was a friend of the late James G. Blaine. He was a man of fine literary tastes, familiar with ancient and modern history and keenly observant of current events. Although loyal-hearted American, he cherished a warm feeling toward his native land. Indeed, love of Scotland was with him a passion, and a stranger visiting his beaurtiful home would at once see evidences of this fact: the thistle adorned the glass panels of the front door; pictures of Sir Walter Scott's monument, Edinburgh Castle,Glencoe and Balmoral Castle were hung on the walls; and portraits of Burns and Scott, the memory of whom was especially dear to Mr. Dobson, and Christopher North and other famous Scotsmen, were seen in different parts of the house. Mr. Robert Dobson's death, which took place at Young's Hotel, Boston, Mass., April 11, 1896, was deeply regretted, and called forth many tokens of respect and admiration not only from his own townspeople, but from prominent men throughout the State of Maine, and even from men of other States.
William Dobson, whose name appears at the head of this sketch, was educated in the common schools, and began his working life under is father's direction. He and his brother now hold a large interest in the new Waverly mill, which was built in 1892 for the manufacture of men's wear, and is one of the finest mills in the State, employing about one hundred and eighty hands. Their father took an active interest in the establishment of this mill as he desired to see the water power utilized. The firm has also an interest in the Old Town woolen-mill.
In 1873 Mr. William Dobson married Lacitna M. McMaster, daughter of Albion P. McMaster, president the National Bank Pittsfield and a prominent merchant of this town. Mr. and Mr: William Dobson have two children: Hattie E. who married S. Haines, of Pittsfield, and now assistant superintendent at the woolen-mills; and Mae McMaster, who resides with her parents. Mr. Dobson takes a warm interest in public affairs, and at one time represented Pittsfield in the State legislature, to which he was elected on the Republican ticket. He is affiliated by membership with Meridian Lodge, No. 125, F. & A. M. ; Ira Berry Chapter, Peltoma Lodge, I. O. O. F. ; and the Encampment of Pittsfield.
Mr. Dobson sustains the credit of the good name bequeathed him by his father, and has proved that he is worthy in his own right to manage the great enterprises of which he is the head, and which furnish employment to and affect the happiness of a large number of his fellow-men.