Pittsfield Historical Society's
History of Pittsfield
What is the Central Maine Egg Festival?
(from the 25th anniversary booklet, July, 1997.
Submitted by Don Hallenbeck, February 2004.)
Visit the Egg Festival page at the Town's website or the Egg Festival's own website at centralmaineeggfestival.org.
List of Past Egg Festival Themes.       The World's Largest Frying Pan.


.
---
WHAT IS THE CENTRAL MAINE EGG FESTIVAL?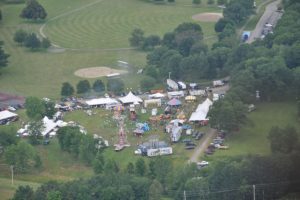 · A time to forget your problems,
· A time for visiting old friends and neighbors,
· A time for having fun,
· A time for celebrating the egg!
It all began early in 1973 when a group of Pittsfield business people were discussing what could be done in the summer that would give people something to look forward to each year, and what would provide entertainment for all ages.
What was Central Maine noted for? At that time there were many poultry farms in the area and Pittsfield was home to one of the largest and most modern egg processing plants in New England. Thus the idea of the Central Maine Egg Festival was hatched!
A few weeks later, a group of representatives from area businesses, organizations, and the community met with the Poultry Extension Specialists and plans were made for the first Festival.
The Steering Committee of the Central Maine Egg Festival is made up of people from all walks of life who want to do their part to continue to make the Festival an annual event worth waiting for.
The Festival is a non-profit organization, and operates on a budget of nearly $25,000! Participating organizations contribute 40% of the income earned each day, and many businesses donate funds to defray costs.
All events are screened by the Festival committee to insure that there will be no duplication of food and games on the grounds, and that the Festival will continue to be non-commercial, non-political and non-religious. All crafts sold from the Arts and Crafts tent are made entirely in the home and no commercially manufactured products are allowed.
It has been estimated that 25,000 people attend the Egg Festival each year—quite a feat for a community of only 4,200 people.
In short, the Festival is designed for you and planned by your fellow citizens; let the committee know your like and dislikes; tell them how you can help another year; and please patronize our sponsors and let them know you appreciate their efforts.
So "Ditch the dishes, forget the floors, and let's all go to the Festival."
---
Original Version: 6-Feb-06.