Pittsfield Historical Society's
History of Pittsfield
Pittsfield's Schools


Click on pictures to enlarge.
---
South Main St. Grammar School  •  Hartland Ave. Grammar School (Marie Bradford)  •  Lancey Street Grammar School
North Lancey Street Grammar School   •  Maine Central Institute   •  Manson Park School
Riverside School   •  Vickery School   •  Warsaw Middle School
School History (from The Valley Times, Wednesday, June 18, 1969; p. 4)
In 1824 Col. William Lancey moved from Palmyra and settled at the Lancey Homestead on the corner of Easy and Main Streets. In a front room of the homestead a school was held for several years taught by Daniel Robinson.
Another school was set up in Moses Martin's home in 1832 and was taught by his niece, Ann Gould, who contributed much to the cultural life of Pittsfield's young people.
On July 26, 1819, the year Pittsfield was incorporated as a town under the name of Warsaw, $150.00 was raised at the first town meeting for the support of schools. Four years later (1823) the town was divided into five school districts, and teachers were secured at salaries of $2 and $3 per week. If cash proved unavailable the instructors accepted corn and wheat as pay for their services.
In 1889 the first Grammar School located on the site of the present Baptist Church was moved to Park Street where today it is an auto parts store and rooming house.
The school committee in 1887 included in their report the following: "We look forward to a time in the near future when our worthless school houses will be condemned as such and a place given to appropriate buildings with modern improvements that will cast no reflections upon us, but will ever stir up a lively interest in the schools and give to those who are to be the men and women of the future a thorough mental, moral, and physical training."
Evidently their report was heeded for in 1889 the Lancey Street School was built, and in 1893 the upper story of the Riverside School was finished. 1897 marked the completion of a two- room school on Hartland Avenue at a cost of $5,500. All schools were overcrowded with 79 pupils enrolled in the primary room of the Lancey Street School and 58 in the Riverside primary room.
A superintendent of schools in 1895 included this observation in his annual report; "The fact that a teacher or some near relative of hers pays taxes in town does not give her the right to the town's money unless she can make as good a return for that money as some other teacher can."
In 1904 the town voted $13,000 for the present Grammar School but the final cost amounted to $15,598. A fire in 1923 destroyed the entire top story but the $15,000 insurance more than restored the building.
In 1892 an article in the town warrant asked: "If the town will vote to appropriate a sum of money, if so, how much for the support of a free high school." The following year a written contract was made with the trustees of MCI to provide free high school privileges for the children of Pittsfield. The contract called for $750 of which amount Pittsfield paid $500 and the state $250. There were 60 pupils who attended MCI for the twelve weeks of the fall term and 50 attended for the ten weeks of the winter term.
Previous to the formation of SAD No. 53 the last schools to be constructed in the town of Pittsfield were Manson Park and Vickery.
From the report of the superintendent of Schools in the Pittsfield town report of 1900 are these words: "Under the district system of management each neighborhood usually took a special interest in keeping its schoolhouse and the surroundings in good condition. With the adoption of the town system we have lost this spirit, and anything that can restore it in any degree is certainly to be commended. It takes all people to give us good schools. If every citizen of our town were thoroughly interested in the matter we could not fail to have the best of schools." The district system referred to was the one-room little red school house (usually white) often found at crossroads corners serving the farm families of the area.
As the little district schools were abandoned for the sake of consolidation in the town schools so now we have come to another consolidation—that of several towns bringing their children to one central area where more facilities for education are available. As some citizens deplored the transition from the district schools to the central town school, so today there are those who are saddened by the loss of their identity as a town when merged with other towns in a SAD. But times change and new conditions arise that have to be met with new methods. "The only thing permanent is change."
Formation of SAD No. 53
Mr. Roy Sinclair of this town was the founder of the original Sinclair Act which pioneered the way for school re-organization throughout the State of Maine. With the assistance of this movement, the citizens of the three towns of Pittsfield, Burnham and Detroit began a school district study in the Spring of 1965.
Members serving on this study group were: Roosevelt Susi, Wendell Bickford, Paul Gilmore, Burton Hammond, Samuel Lloyd, Rowena Fields, Geneva Basford, Lyle Chadwick, Ernest Poulin, Allen Bancroft, Evelyn Austin, Allan Sidell, Frank Hazeltine, George Newhouse, Lorraine Raymond, Joe Schissler, Freeman Patterson, Marion Snowman, Virginia Bryant, Jeannette Fitts, Donna Perkins and June Vaughn.
The study resulted in the formation of School Administrative District No. 53 on January 26, 1966.
In September 1967, for the first time in the history of the town, education for Freshman students was provided in the public school system, thus having Maine Central Institute serve the district for its secondary students in the three upper grades.
---
South Main St. Grammar School (1867-c.1888, demolished c.1980.)
---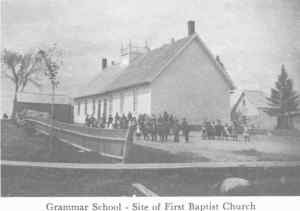 Pittsfield's first grammar school, built around 1867 and about doubled in size a few years later (note change in roof coloration). It stood on the site of the present First Baptist Church at the corner of South Main St. and Stinson Ave. (top photo)
After closing as a school, in 1889 the building was moved to Park Street next to Union Hall (second photo, from the mid 1940's) where it was turned into a commercial building by J.C.Connor, who added a second story and fitted it out for a store and rooming house. Afterwards it became a theater, a knitting mill, a rooming house and in the mid-1960's was auto parts store and rooming house. Demolished in a wave of urban renewal around 1980.
---
Hartland Avenue Grammar School
(Marie Bradford School) (1897-present)
---
Marie Bradford, in a 1961 DAR group photo. (right)
Old colorized picture postcard of Hartland Ave School.(left)
As of 2005, the administrative offices of School Administrative District (SAD) #53 were
located in the former Marie Bradford School on Hartland Avenue. (right)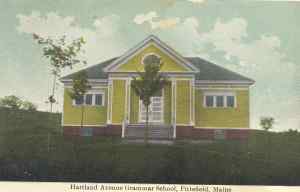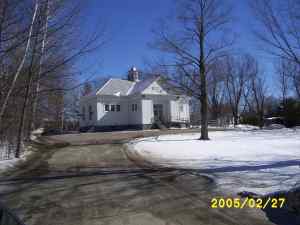 ---
Lancey Street Grammar School (1888-1965)
---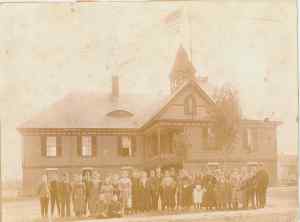 Constructed of brick in 1888 at a cost of $10,000, the Lancey Street Grammar School accommodated primary, intermediate and grammar grades. It was located on Lancey Street where the Manson Park School parking lot is now. Demolished around 1965 to make room for building the new Manson Park School.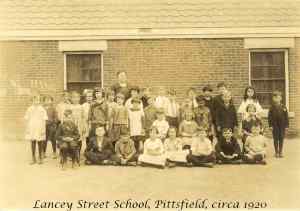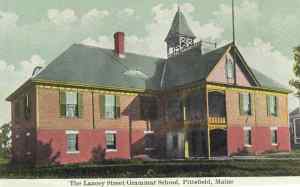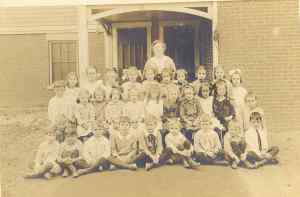 ---
Manson Park School (1952-present)
---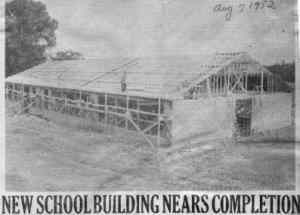 Manson Park School under construction in an August, 1950 newspaper photo. (top photo)
Located at 179 Lancey Street.
---
Maine Central Institute (1866-present)
---
MCI was founded in 1866 by Oren B. Cheney, Nathaniel Weymouth, Ebenezer Knowlton, Going Hathorn, William C. Stinson, Lot L. Harmon, Jesse C. Connor and Aura L. Gerrish.
Maine Central Institute, 295 Main Street, Pittsfield, ME 04967, ph. 207-487-3355.
---
North Lancey Street Grammar School (1904-present)
---
Built in 1904 at a cost of $15,598. A fire in 1923 destroyed the entire top story but the $15,000 insurance more than restored the building.
---
Riverside School (1890-1959)
Built in 1890 at a cost of $4,000, and served intermediate and grammar students. In the 1959 the Riverside School building was sold to C.M. Almy Church Goods when they first moved to Pittsfield. As of 2006 it was being used as an apartment building.
---
Vickery School (1958-present)
---

Elementary School. Vickery School, 30 School Street. 2002 photo. Addition built in 1965.
---
Warsaw School
---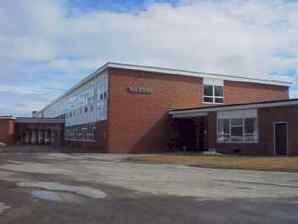 Intermediate school. Warsaw School, 167 School Street. 2002 photo.
This modern structure was built in 1965 as a Junior High School near the Vickery School complex. It served this past year as the Sr. High School as well.
---
Original Version: 6-Mar-05.