A partial listing of Pittsfield's restaurants and eateries, where they were located and when they were in business.
613 Main St., built in 1951.
Tastee-Freeze. Purchased by Mr. & Mrs. Tom Richardson and Family in 1965, Tastee-Freeze was operated as an ice cream bar.⇒
Nancy's Restaurant. Nancy & Bob McGinnis bought the place in 1982, and operated it as a family restaurant for 15 years. In late 1990's they sold it to
Christina and Peter Norris who kept the name Nancy's. Nancy's Restaurant finally closed c.2001.⇒
Blondies. Around 2002 it opened for one year as Blondies.⇒
Picnic Basket. Opened briefly as the Picnic Basket in 2004,⇒
Pitt Stop. Open as a tavern in 2013, closed after a few years.
2017. After sitting unoccupied for about 5 years, building was demolished in 2017, and replaced by new Trafton Plumbing & Heating building.
---
21 Main St. (original address 107 Main St.)
Thrifty Store. Opened in 1947.
Oak Stove Restaurant.  ⇒
Kens Restaurant. Operated by Ken Dionne. ⇒
Corrianders. c1995-99. Owned by Tony Russo. ⇒
Big Dog Diner. ⇒
Simon's Family Restaurant. Opened in spring of 2003 by Mary Ellen and Al Simons. "We moved up from Massachusetts 2 years ago and owned a restaurant years ago. This one went up for sale and we decided to give it a try." ⇒
Clippers. 2004-5 ⇒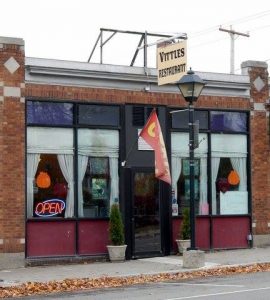 Vittles. Owned by Bob Phelan, operated by him and is son Chef Rick LaRose.  c2010.
---
South Main St. These restaurants were located on South Main Street, across from Frost's Mobil (Apex) station, just north of the lot now occupied by storage buildings.
Kristinas. ⇒
Embers. Early 1960s David & Susan Mercier, Closes 1975.⇒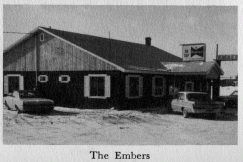 Dominick's. Opened June, 1981 with Elaine Caron, manager. Closed due to fire. Reopens in 1986.  ⇒
---
Burnt Biscuit. Located in the Fabian-Soucy block on the west side of Main St. which was demolished in urban renewal c.1979.
Pine State Restaurant. Opens for a few months in early 1965.
---
Dan's Lunch opened in 1930 on the corner of Central and Main Streets. Closed when Mr. Tozier, its genial proprietor, retired.
---
Big Bills ice cream bar. Facing Connors street, Big Bills had many outdoor picnic tables for customers to sit at while eating ice cream. Was open in 2011, closed by 2016.
---
Pizzarena opens under new management in 1967 (John Curtis, Sr.). On west side of Main St. Building demolished in 1979.
---
South Main St. Across from C.N.Brown.
Ritchie's Pizza moves from North Main Street near the river to a new building on South Main Street near the bowling alley (across from C.N. Brown) in 1976.
---
Hitching Post Restaurant. Reopens in 1967.
---
Harold's Restaurant. Sold to new owners in 1968.
---
Caruso's Lunch. Opened on Main Street in 1974.
---
Carriage Inn Restaurant.   Carriage Inn to be leased to Andre Garfield and opened in 1972. In 1974 Sen. Ed Muskie visited Pittsfield, lunched with area businessmen at Carriage Inn Restaurant. Sold in 1974, reopens in 1975. Reopens again in 1978. Mark Cianchette to reopen Carriage Inn in 1980. Reopens again in 1982. Renovated in 1984.