Pittsfield Historical Society's
Llewellyn Powers

Llewellyn Powers (1836-1908) — of Houlton, Aroostook County, Maine. Born in Maine, October 14, 1836. Republican. U.S. Representative from Maine 4th District, 1877-79, 1901-08; died in office 1908; Governor of Maine, 1897-1901. Died July 28, 1908 (age 71 years, 288 days). Interment at Tilton Corner (Powers) Cemetery.

From: "BIOGRAPHICAL REVIEW, Vol. XXIX Containing the life sketches of leading citizens of Somerset, Piscataquis, Hancock, Washington, and Aroostook Counties, Maine" Biographical Review Publishing Company, Boston, 1898, Biographical Review 239, April 1898.
---
HON. LLEWELLYN POWERS, a representative citizen, not only of Aroostook County, but of the State of Maine, of which he is the present Governor, was born at Pittsfield, Me., in 1838, son of Arba and Naomi (Mathews) Powers. His father was one of the pioneer settlers of Pittsfield, where he was engaged in farming and lumbering. Industrious and enterprising, the elder Powers was fairly successful in worldly affairs, though hampered to some extent by the burden of a large family, eight boys and two girls. Their mother was a school teacher before marriage. Six of the sons engaged in the practice of law.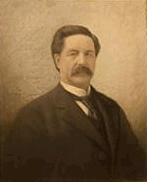 Llewellyn Powers was born in the log house that constituted at one time his parents' primitive dwelling. He acquired the rudiments of knowledge in the common schools of his native town, fitted for college at St. Albans and Waterville Academies (the latter now known as Coburn Classical Institute), and entered Colby University in the class of 1861. Leaving college in his Sophomore year to enter the Albany University Law School at Albany, N.Y., he was there graduated in December, 1860, with the degree of Bachelor of Laws. Shortly after his graduation he was admitted to the New York bar, and in the following December to the bar of Somerset County, Maine, at Norridgewock. In January, 1861, he began practice in Houlton, where he had an extensive practice for twenty-five years. He was then admitted to the bar of Suffolk County, Massachusetts, and practiced his profession for some four years in that county, making his home in Brookline, an attractive suburb of Boston. He was also admitted to the United States District and Circuit Courts.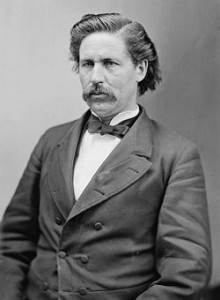 Elected County Attorney for Aroostook County in 1864, he held that office for six years, performing its duties with pre-eminent ability. He was the first Collector of Customs for the Aroostook District, being appointed by President Grant in 1868, serving four years, and declining a reappointment tendered him in 1873. He represented his district in the legislature in 1873-74, 1874-75, 1875-76, and 1883, much of the time serving on the Judiciary Committee, of which in 1875-76 he was chairman. It was while on this committee that he gave evidence of a capacity for public affairs that attracted the attention of his fellow-citizens throughout the State, and resulted in his elevation to his present high position as the Chief Magistrate of the State. He introduced and carried through, in spite of strong opposition, the bill for abolishing capital punishment, which has since been in operation, notwithstanding efforts made to revoke it. In 1876 he was elected to the national House of Representatives from the Fourth Maine District. In 1878 he was re-nominated by acclamation, but was defeated with many other Republican candidates, owing to the "Greenback" delusion that swept the State that year.
Retiring for a time from active politics, except as his services were demanded on the stump, he gave his chief attention to the practice of his profession and to his various private interests, which included the ownership and management of large tracts of timber land, some two hundred thousand acres in all. Of this realty he began the purchase in 1872. He was one of the original twenty persons interested in the "Burleigh Scheme," which culminated in the building of the Bangor & Aroostook Railroad, Mr. Powers liberally subscribing to the stock, besides conceding the right of way through his property.
In 1892, being persuaded by his friends to re-enter public life, he was again elected to the legislature, and his thorough knowledge of public affairs and brilliant qualities of leadership soon made him one of the most talked of men in the House. Re-elected in 1895, he was chosen Speaker, receiving the votes of all the Republican members; and in this capacity also he fulfilled the most sanguine expectations of his friends, displaying rare judgment, tact, and executive ability. His nomination to the gubernatorial chair followed almost as a logical conclusion; and he was elected in September, 1896, by the largest majority ever given a candidate for that office in the State of Maine. Of his record as Governor up to the present time (April, 1898) no more need now be said than that it has been worthy of himself, of his party, and of the old Pine Tree State, whose public men have proved themselves the equal in statesmanship of those of any other section of the Union.
Governor Powers is an able and interesting public speaker, and his services in this capacity have been of great value to his party in many political campaigns. His speech to the members of the House of Representatives on assuming the office of Speaker was a model of its kind, being brief, yet comprehensive, and to the point. His great personal popularity is another element of his strength that should be taken into account by all those who would review his past career or attempt to forecast his political future. Besides the private interests already mentioned, Governor Powers holds stock in several banks in Aroostook County and elsewhere. A member of the Masonic order, he is Past Master in the Blue Lodge, and belongs also to the chapter.
He married December 25, 1886, Martha A. Averill, of Lincoln, Me. He has five children—Walter A., Martha P., Doris V., Ralph A., and Margaret L.
---
Original Version: 2-May-2006.
Article scanned by Tom Brown of the Pittsfield Historical Society.