Pittsfield Historical Society's
History of Pittsfield
Elizabeth Pierce Lancey Chapter
Daughters of the American Revolution
Click on photos to enlarge.

---
Naming of D.A.R. Chapter
This chapter was named in honor of the wife of Samuel Lancey, a Revolutionary Soldier enlisting from Chelmsford, Mass. He was born in Normandy, France, Aug. 10, 1760 and died in Palmyra, Maine, Oct. 25, 1837. Elizabeth, born in Chelmsford, Sept. 2, 1765, was the daughter of Robert Pierce, who in 1724 was a member of the Chelmsford "Snow-shoe Company" under command of Capt. Robert Richardson in Lovewell's Indian Expedition. Elizabeth Pierce became the wife of Samuel Lancey, Oct. 16, 1783, in Chelmsford. They removed to Palmyra, Maine and built a large tavern on the stage road from Norridgewock to Bangor, a duplicate of their Chelmsford home. She died Feb. 13, 1814 and was buried beside her husband in the Palmyra Village Cemetery. Their eldest son, Col. William Lancey, built the first tavern in Pittsfield.
Chapter Organization
Elizabeth Pierce Lancey Chapter of Pittsfield, organized Nov. 2, 1916; 12 charter members.
Marking of Historic Spot by Chapter
The marker designating the site of the first frame house in Pittsfield was dedicated September 16, 1923 at 3 o'clock. The exercises were presided over by Mrs. Nellie M. Hunnewell :
Invocation, Rev. E. L. Converse.
Cornet solo, Mr. Herbert Hunter.
Sketch of Martin Family.
Unveiling of Tablet, by Mr. William Perry Martin.
"Star-Spangled Banner," Mrs. Helga Spaulding.
Address, Mr. Henry R. Coolidge.
Singing, "America."
The marker is in the form of a boulder of Maine granite, bearing a bronze tablet, on which is the D.A.R. insignia and the inscription :
          1818-1923
       The site of the
      FIRST FRAME HOUSE
          Marked by
  Elizabeth Pierce Lancey Chapter
Daughters of the American Revolution

The original house still stands [circa 1925] on the site and is owned and occupied by William Perry Martin, a direct descendant of the builder, Moses Martin. Mr. Martin, with his wife, Anna, and three children came to Pittsfield, in 1794. Their first dwelling was a log house; the present house was built in 1818.
---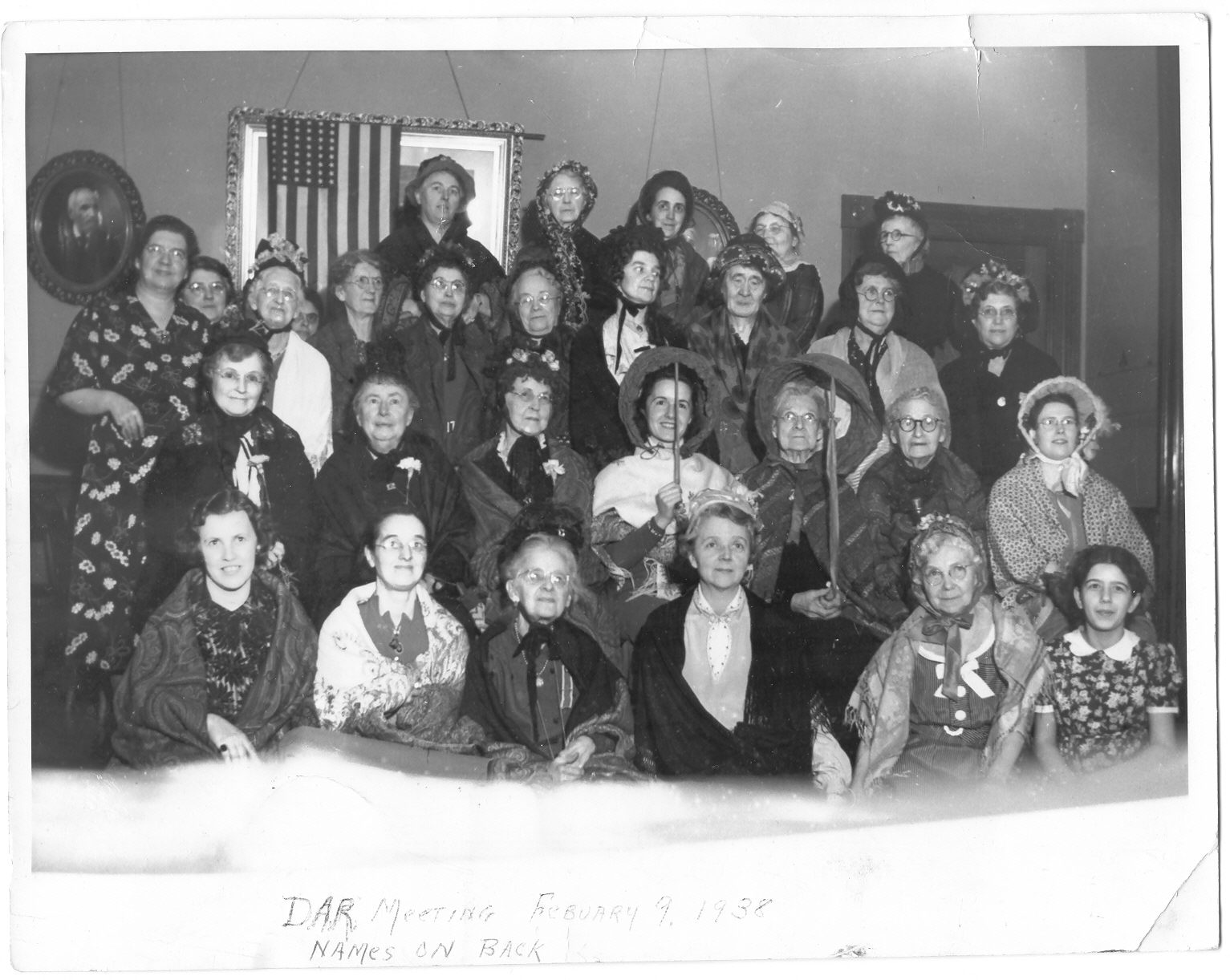 This photo of the Elizabeth Pierce Lancey Chapter, DAR was taken on February 9, 1938.
According to names noted on the back of photo, the following members were present:
Front Row: Marion Kimball, Elaine Brooks, Florice Marden, Marion Waldron, Francelia Campbell, Nancy Brooks.
2nd Row: Betsey Milliken, Effie Lord, Dora Vickery, Dorothy McMichael, Nellie Hunnewell, Abbie Buxton, and Vashta Clement.
3rd Row: Lena Marsh, Lizzie White, Maud Goodwin, Mrs. Smith, Maud Trickey, Florice Griffin, Grace Rogers, Blanche Maxfield and Mildred Buxton.
Back Row: Florence Buxton, Mary Palmer, Dorothy Haseltine, Mrs. Jessie Freeman, Angie Percival.
---
A 1961 photograph of the EPL DAR chapter, with names on the reverse.
---
Original Version: 6-Feb-2006