'87 Flood photos
from the collection of Betty Packard
click on photos to enlarge
---
SCAN 1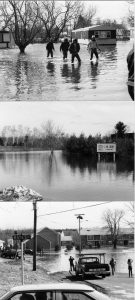 Street by Church Goods [C.M. Almy's]
Front of Credit Union, Sebasticook St.
Sebasticook St.
Hartland Ave
Church Goods St.
---
SCAN 2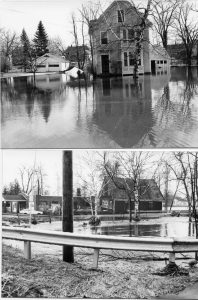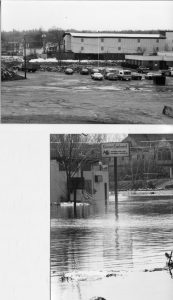 North Main
North Main
Bouffard's
Edwards Parking Lot
---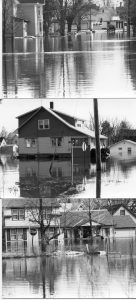 SCAN 3


House on corner of West & Elm
Right down West St toward Hathorn Park
Right in front of Bachrach's office, 2 guys in a canoe down by Mrs. Kingsbury's house.
Car is in back of Bachrach's office
Bachrach's office from West St. Almost up to the windows.
---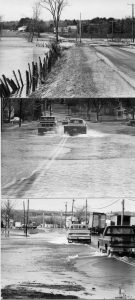 SCAN 4


Tennis Court at Manson Park. Snowmobile sign is about 4 ft high on pole.
Down across park toward railroad bridge
In front of Richie's
Exactly in front of Richie's Pizza. Must have been around 6 inches of water in road.
Burnham Road toward Nancy's
---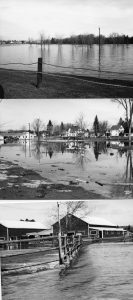 SCAN 5


Looking from truck window back at stable
Hartland Ave from end of Sebasticook St.
Water across driveway at Wright's stables
From front of post office toward Hathorn Park
Manson Park
---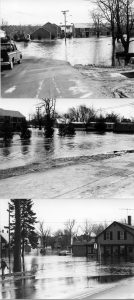 SCAN 6 Thurs Apr 2, 1987
Sebasticook St. toward North Main St. Credit Union at left
Standing at end of Credit Union. Where current is, is actually street leading to drive up window.
Bachrach's office from Somerset Ave.
---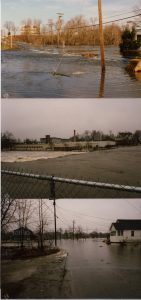 SCAN 7 (color) Wed, Apr 1, 1987


Cianbro Parking Lot from Dobson St.
Sandbagging done to save Edward's. Here and all down around lawn to back of factory, they used 40,000 sand bags.
North Main St from Detroit Ave
Edwards Co. from Detroit Ave. See guys carrying sandbags.
Hunnwell Ave Cianbro's yard
---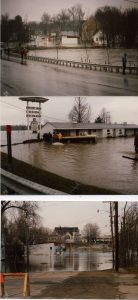 SCAN 8 (color) Thursday, April 2, 1987


Corner Cupboard
Barney's at Sibley Pond
Back towards Corner Cupboard
Down town from Detroit Ave
Edwards Co. Thursday morning
---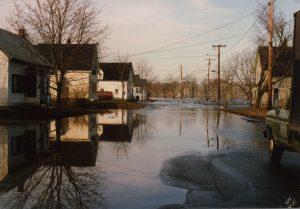 Scan 9 (color)
I was standing at the end of Livingston St. The water was way up there.